This article was originally publishedon  AUGUST 18, 2011 in for HappyCow, read the original article here.
Owner or Chef's Name: Julie Norris (her blog)
Is this your first restaurant? Yes
What has been your greatest professional success and your biggest setback?
Our greatest success has been from the relationships that have formed over the years with our patrons. We were an instant institution within the first year of opening and have be so grateful that our patrons keep coming back for more, with friends. People fall in love here, get engaged here, and one couple even got married here! It's a special place and being part of a community that really nurtures the spirit of the cafe makes it bigger than just a restaurant or business as usual establishment.
Our biggest set-back came with the down economy that coincided with the birth of my daughter. We struggled mightily through that time period like many of our patrons, but we took a risk and honestly engaged with our customers about the crisis, and raised over $5,000 to help keep us afloat. That was two years ago, and today we are thriving incredibly but would not have been able to keep our doors open were it not for the small donations of thousands of our patrons.
What's your favorite dish on the menu?
Probably the Fakin Lettuce and Tomato. We use artisan organic tempeh from The Tempeh Shop out of Gainesville to make our own Fakin and pair it was a Basil Ailoli, Organic Tomatoes and Spring Greens. I dip mine in our homemade vegan queso. Mmmmmm.
What's the most popular appetizer on the menu?
The Summer of Love rolls made fresh to order using fresh chopped herbs and served with our Coco-Peanut Dressing.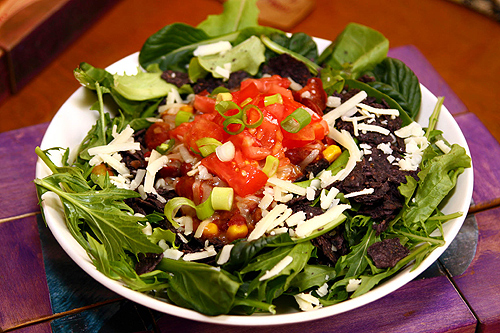 Most popular entrée?
They Giddyup is everyone's favorite – it is a salad or wrap with vegan chili, chips, tomatoes, scallions and organic cheddar or vegan homemade queso. Topped with our homemade Green Goddess dressing, you cannot go wrong.
Most popular dessert?
We change these regularly, but the Cayenne Brownies are a huge hit.
How often do you change your menu items? Do you have daily or weekly specials? How do you choose those specials?
We usually have a special and run it for a week or two. We've got a selection of favorites that we rotate in and out depending on the seasonal availability. Some popular ones are the Sweet Potato Burrito, Avocado Fetish and Samosa with Date Chutney. We prepare a special just for Thanksgiving that we run throughout November. We run a $5 deal on Giddyup's every Monday and put other favorite menu items as a special deal once a week.
Do you have gluten-free, soy-free, and sugar-free options on your menu?
Absolutely, we are committed to a wholesome selection and pay special attention to allergens.
What are a few of those?
Gluten-free: 90% of the menu is gluten free, and items are clearly marked if not.
Soy-free: Some of our dressings do have soy in them, but there are many items on the menu that are soy free.
Sugar-free: We use agave to sweeten most menu items when needed, but use it sparingly. The coco peanut dressing does have sugar and a huge pot of chili contains one tbsp of brown sugar. Other than that, no sugar here.
Do you use eco-friendly packaging? What else do you do to reduce your environmental impact?
Yes, but there's a big debate about what is eco-friendly so we do things to try to minimize the need for that: use real plates and utensils, right-size portions so that there is not leftovers for the majority, make delicious food so people want to eat it all right now!, sell reusable tumblers with our logo on it to encourage people to get in the habit of this (offering a discount on beverage purchases). Our walls were redone in American Clay to reduce toxins in the environment, have onsite culinary garden, recycle, added insulation the the building, use LED lights where possible, promote biking to work, serve menu items that don't require a lot of heat (energy) to be used.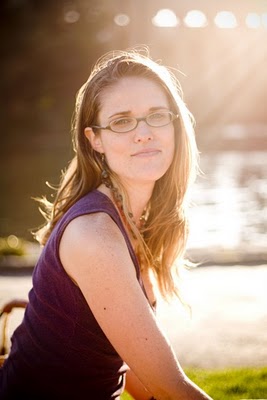 If you could eat at any vegan restaurant in the world where would it be?
PURE in NYC. One of my former cooks is now Sous Chef up there, and I miss his creations so much! Daniel Benhaim is his name. He's sweetness in a bottle and he makes the sexiest food I have ever tasted. I keep begging him to come back home, but I think he likes it in Brooklyn.
Do you have any advice for those wanting to start a vegetarian/vegan restaurant?
Be really well informed of the time involved. It's a serious commitment with lots of rewards but also lots of work. Start out doing a Supper Clubs, Farmers Market or Food Stand/Truck and see how you like being in business and how well received your product is. It will give you valuable insights and build strong relationships in your community.
Thank you Julie for joining us here on HappyCow and sharing all the wonderful things about your restaurant. I hope you enjoyed learning more about Dandelion Communitea Cafe! If you are a restaurant that would like to be featured in the HappyCow Restaurateur Interview series please send us an email!